SMALL MACHINES. BIG RESULTS
DON'T LET THE SIZE FOOL YOU.
Whether you're acquiring your first machine or adding to a fleet, there's a John Deere Excavator, Skid Steer or CTL that's all-in for you.
Skid Steers
YOUR INSPIRATION, OUR INNOVATION.

Before hitting the G-Series drawing board, we hit the phones and the road — connecting with skid steer and compact track loader (CTL) users like you to find out what they need. We listened, then rolled up our sleeves and applied what we learned. The result? Five compact models in vertical-lift and radial-boom configurations. With a look and feel like their larger siblings, plus amped-up specs and a wider variety of options, these reimagined do-it-alls have what it takes to fit the way you work, wherever you work.
Compact Track Loaders
TAKE A LOAD OFF
ENHANCED ABILITY — AND COMFORT, TOO.

With our G-Series, compact doesn't mean cramped. Larger entryways with doors that swing out make it easier to get in, get comfortable, and get on with it. Inside, there's more foot- and legroom. Sealing and cab pressurization have been improved over previous models to help keep the dust out and the noise down, so you can focus on work — and even enjoy the hands-free Bluetooth¨ radio for streaming your favorite media. Operators will also appreciate what they see from the comfortable sculpted seat. Clear sightlines to the cutting edge and bucket corners, above and below the lift arms, and the jobsite ahead and behind instill confidence when working in close quarters.
Excavators
FIT IN
MORE WORK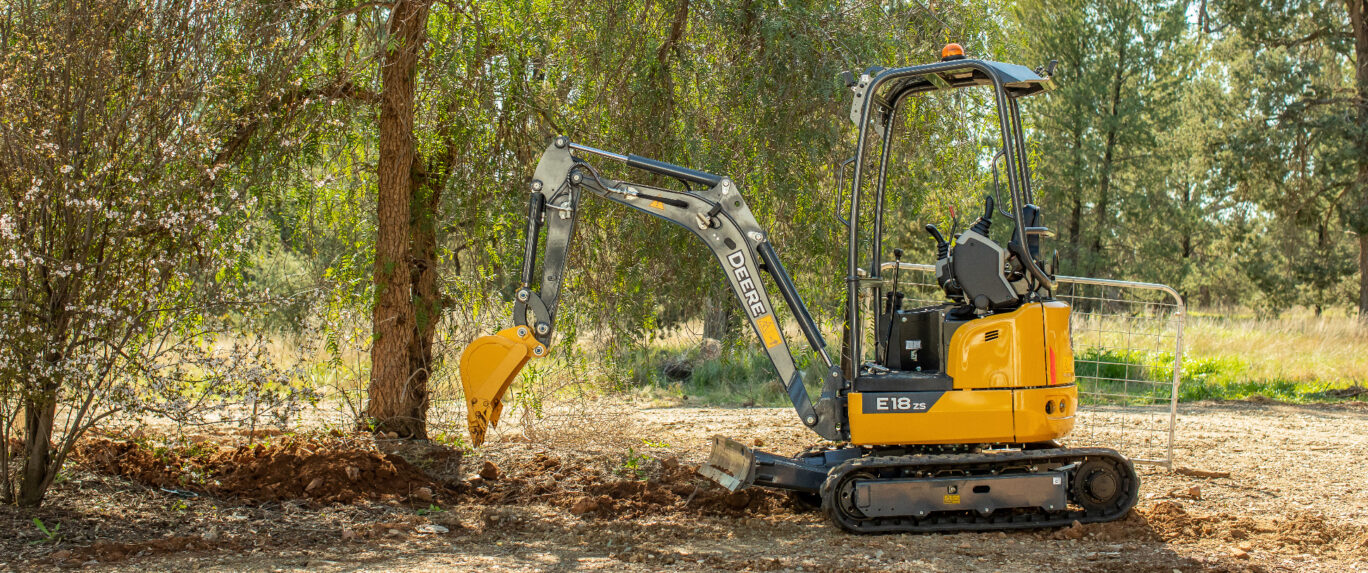 Featuring a zero-tail-swing design and retractable undercarriage, the ultra-capable yet compact E18ZS squeezes more work out of areas where you would normally need a shovel. Load-sensing hydraulics provide smooth control. Plus its two-speed travel with automatic shifting and small size make this excavator quick and maneuverable, so you can easily move on to the next job.
E18ZS
Compact Excavator
Net Power: 13.8 kW (18.5 hp)
Max Digging Depth: 2.32 m (7 ft. 7 in.)
Operating Weight: 1836 kg (4,047 lb.)
E36ZS
Compact Excavator
Net Power: 22.2 kW (29.7 hp)
Max Digging Depth: 3.24 m (10 ft. 7 in.)
Operating Weight: 3718 kg (8,196 lb.)